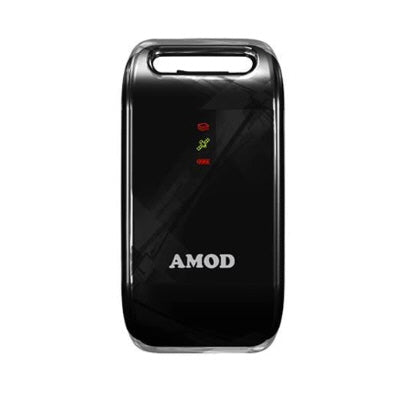 Amod AGL3080 GPS Data Logger Rechargeable (SiRF III, Driverless, 128MB, Push to Log, Rechargeable Batteries included) (Windows and Mac Compatible)
This item has been discontinued by the manufacturer.
Recommended replacement products are :
==========================================
The new Amod AGL-3080 Rechargeable includes all the features of the original AGL-3080 plus new rechargeable function. AGL3080 Photo Tracker is a GPS-based data logger designed to provide location information for digital photos. Unlike other similar products, AGL3080 does not need a driver to operate. When you plug AGL3080 into a computer via USB port, it will simply appear as an external drive. The recorded log is standard NMEA format which is compatible with many online tools and software such as JetPhoto, GPSVisualizer, etc.
Product Specification:
Antenna
Receiver Frequency: 1575.42 MHz (L1 band) C/A code

Antenna Type: Built-in Patch Antenna
GPS Receiver
Technology: SiRF III

Satellite Measure Used: 20 channels all in view tracking

Operating Temperature: -20 degree to 50 degree C

Operation Time: 15+ hrs with 3 x AAA batteries

Data Port: Mini-USB
Time to First Fix (TTFF)
Hot Start: 1 seconds typical

Warm Start: 35 seconds typical

Cold Start: 42 seconds typical
Memory
128 Mbytes (1 Gbit NAND flash memory)

USB 2.0 full speed
Physical Characteristics
Dimension: 90mm x 45mm x 23mm

Weight: 50g

Buttons: Power Button x 1, Push to Log Button x 1
Features:
New! Built-in rechargeable function

SiRF III chipset for best sensitivity and low




speed tracking

Standard USB 2.0 interface which doubles as




an USB Flash Disk

Works with Windows, Mac, and Linux based




computers

Long operating time - 15 hours with 3 x AAA




batteries

Maximum 1,380,000 logging point (RMC data)

Memory capacity for maximum 3,833 logging




hours (RMC data, 10 sec logging frequency)

On-The-Spot logging mode switch- You can




switch logging mode in just few seconds




without PC utility needed in your journey

Windows and Mac photo tagging software




included
Package Includes:
Amod AGL3080 GPS Data Logger x 1

Data and Charge Cable x 1

User Manual and Application CD x 1

Carrying Clip x 1

Rechargeable AAA batteries x 3