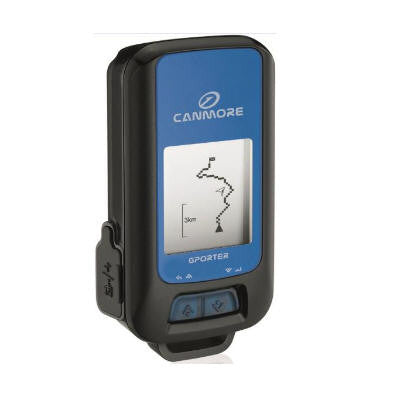 Canmore GP-102+ G-PORTER GPS Data Logger
Canmore GP-102+ G-PORTER GPS Data Logger (Barometer; Altimeter; Digital Compass; Geotag photo; Weather Station; Pedometer; Travel logger; Gradienter; Find Wayback feature; SiRF 4 GPS chipset, IPX 6 WaterProof)
The GP-102+ is the best available portable GPS tracker and sports analyzer with the most 


functions with the simplest operations.




The SiRF starIV™ navigation processor is equipped to deliver the best positioning quality.



The GP-102+ sports tracker provides a wide variety of sports modes to support analysis 


with different software analyzers.




The GP-102+ allows users to retrieve previous tracks.




The GP-102+ provides route planning or sports tracking functions.



The GP-102+ comes with versatile additional functions, such as pedometer, barometer, 


weather station, level, etc.
(GP-102+ designed as "mass storage USB device". no driver is needed.)
Features:

48 track verification channels




SIRF-IV low power chipset




Barometric Altimeter




Digital compass




Mark and locate positions




Geotag Photo




Weather station




Pedometer




Travel Logger




Water resistant up to IPX6




Gradienter




Convenient and easy to use




Great for finding way-back/target outdoors




Giving peace of mind and feeling secure
Technical Specs:
Receiver Type 1575.42MHz L1 C/A code




Accuracy Position 2.5m CEP




Velocity 0.1m/sec




Startup Time < 34sec cold start




Reacquisition 1s




Battery Internal Rechargeable




Operating Time Using GPS mode : 17 ~ 20 hours




Using time mode : 600 hours




Serial Interface USB




Input Voltage 5V DC




Dimension 70mm L x 35mm W x 16mm H




Weight: 40g




Operating Temperature ‐20oC ~ +60oC
Package Includes:


GPS Unit




USB Cable




Manual & PC software for Windows OS