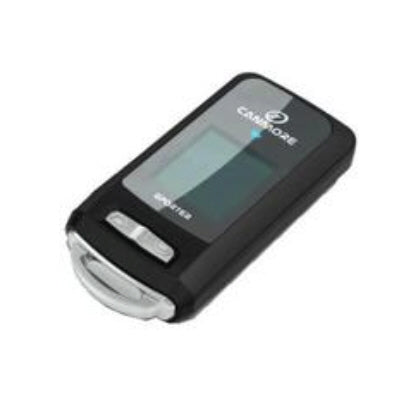 Canmore GP-102 Key-Chain GPS (Back Track GPS, Geo-Tag Data Logger, USB GPS Receiver, Latest 66 Channels, Ultra Light Weight 42g, Built-in Digital Compass & IPX6 Waterproof)
This item has been discontinued by the manufacturer.
Recommended replacement products are :
==========================================
Ever forgot where you parked your car at the mall or stadium? Ever got lost when hiking, biking, or traveling to a new place? Canmore GP-102 is a keychain-sized GPS Locator device used for returning to a previously marked outdoor spot. This high-tech, reverse navigation system is low cost, accurate, easy to use, fits in your pocket, and gives peace of mind.
Using the latest GPS technology, Canmore GP-102 works globally, under all weather conditions, 24/7. It is an indispensable tool for outdoor enthusiasts. Whether it is for returning to the camping ground, remembering a favorite fishing spot, or getting back to a place of particular interest you came across during vacation, simply mark the location while you are at the place. Later Canmore GP-102 can guide you back to the exact spot no matter how far away you start.
nTrip Software Description:
As a GPS Guider, ntrip allows users to set GP-102 location icons by manual input of coordinates, or by clicking destination locations on the Google Map graphic user interface. Then GP-102 can guide users with distance and heading information to the target destination.
As a GPS Data Logger, the GP-102 is capable of recording 165,000 points of position, velocity, and time information. It may be used as a trip recorder, giving a complete track / velocity / time history of your travel routes. The logged trip data can be shown on Google Map, or exported to share with friends. For sports application, it can record the path taken and the movement speed for later performance analysis.
ntrip is also a photo geo-tagging software, facilitating showing of photos on the Google Map at the place where it is taken. It eases users to upload geo-tagged photos to flickr, locr and sharing with friends. The logger data can be exported in KML, KMZ, GPX, CSV, NMEA formats for use with other Software.
Features:
Turn GP-102 into a GPS Guider

Turn GP-102 into a 165,000 point Travel /




Trip Recorder

Geo-tag photos to share with friends

Display traveled routes on Google Map

Export logger data in KML, KMZ, GPX, CSV,




NMEA formats

Facilitate uploading of photo and travel data




to flickr and locr

Analyze sports training performance
Package Includes:
GPS-102 with built-in battery

miniUSB download / charging




cable

Quick Guide