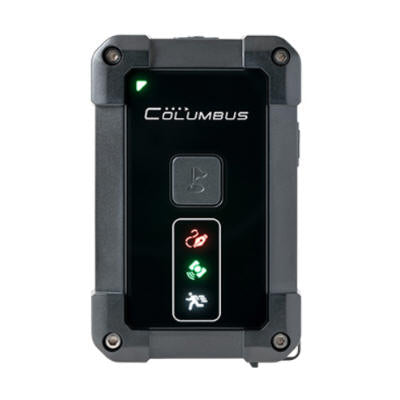 Columbus P-1 Professional GPS Data Logger
This product has been discontinued. Please order the replacement product Columbus P-1 Mark II instead.
IP66, All Weather, Anywhere!
P-1 adapts to any outdoor environment that that are not suitable for GPS devices, whether in ice, frost, rain, snow, or on desert, Gobi, beach... P-1 is built with the highest protection of its breed* for all-weather operation, providing normal logging even with prolonged exposure to high humidity and dust. P-1 also works in an extended range of temperature from -10°C to 50°C, to ensure normal use in high latitudes and tropical areas. *IP66 compliant. Always tighten its rubber cover at the bottom before use.
50-hours Super Long Battery Life
Your newly delivered P-1 guarantees more than 50 hours of operation*, enough for a whole week's work (logging 10 hours per day, 5 days per week) and outperforming any competitor available on the market (according to the statistics in October 2018). *Continuous logging at 10Hz and 20°C environmental temperature.
P-1 has unique dual function buttons, and the function button can be defined as multiple functions according to your requirement. You can pause/continue logging at any time! The start and stop can avoid a large amount of redundant data and optimize the track information. It is also possible to add two different types of POI.
Intelligent Mode: Auto Power On and Spy Mode
P-1 is automatically powered On/Off with the vehicle, no need for manual management. In the Spy mode, P-1 enters a silent and light off working state and can increase the endurance to 7 days.
G-Sensor for Motion Detecting
P-1 has a built-in motion sensor. When motion is detected, it can be awakened and start logging immediately. An ordinary GPS data logger will still work after the vehicle stops,in such case, it will consume more energy and produce unwanted waypoints data. When P-1 is static or has lost satellite signal for over 5 minutes, it will automatically enter standby state to maximally save energy. The intelligent design will optimize the track data for easy information organization.
Updating the Firmware Yourself
In the future, we will continue to improve the product in time and update the firmware of P-1. You can update the firmware on the official website to ensure that the device is in top condition. The update steps do not require special tools, it is quick and easy to operate.
Product Specification:
Size and Weight Size: 3.3" x 2.2" x 0.7" Weight: 2.6oz

Ingress Protection*
IP66 * The rubber connector cover must be fully covered. P-1 can work normally in rain, snow and high dust environments. Do not immerse P-1 in water.

Operating Temperature
-10°C to 50°C / 14°F to 122°F

GPS Performance
MTK3339
66-channels
Sensitivity better than -165dBm
Built-in active antenna

Positioning Ability*
Cold Start: 35 seconds
Warm Start: 32 seconds
Hot Start: 1 second
Reacquisition: <1 second
Non DGPS (Differential GPS): 2.5m/CEP(50%) 8.0m/CEP(95%)
With DGPS corrected (EGNOS / WAAS): 1.5m/CEP(30-50%) 2.5m/CEP(95%) *EPS 4th Gen

Storage Card
MicroSD, MicroSDHC, MicroSDXC
FAT16, FAT32 file format.

Logging Data
Geodesics WGS-84
Date
Time
Latitude: (0.000001 degree)
Longitude: (0.000001 degree)
Altitude: -1,000 ~ 18,000 meters -3280 ~ 59000 ft (1 meters / 3ft)
Speed: 0 ~ 1,850 km/h; 0~1180 mi/h (0.1km / 0.1mi)
Heading: 0 ~ 359 (1 degree)

Waypoints Amount*
CSV (plain code format): 580 Million points

GPX (common exchange format): 310 Million points

NMEA (NMEA-0183): 210 Million points
* Use 32GB MicroSD. Waypoints amount is an approximate value and may slightly vary from different conditions.

Dependability*
Better than 99.998%*
* Based on our test results. Way points are lost at a probability of less than 0.002%, or no more than 1 out of every 50,000 records.

Power and Battery
Built-in1900mAh rechargeable lithium-polymer battery
Duration times*:50-55 hours
Charging time: Approx 3.5 hours
Power Supplies: DC 5V 800mA
* Continuous logging at 10Hz and 20°C environmental temperature.

System Requirements
Internet access
Mac: OS X v10.7 or later
PC: Windows 7 or later
Linux: 2.6.12 or later
Time Album pro software
 Over 14 map patterns to view the tracks: Google Maps, Google Satellite, OSM Map, OSM Contour Map, etc.

 Provides four commonly used statistical charts to analyze track data: time-speed, time-altitude, distance-speed, distance-altitude.

 Brand-new track list model to show information of tracking data.

 Brand-new display of tracks which includes: special points such as start point and end point of tracks, POI point, photo point, voice point (V-900/V-990 recording) and P point (parking point).

 It is allowed to personalize settings on checking, editing and converting of the tracks.

 Supports over 20 GPS track file formats, as well as formats converting of most common GPS data logger in market.

 Upgraded Geotagging. The Geotagging and view are more convenient, and you can view the shooting location and EXIF information directly on the map.

 You can add GPS coordinates on the EXIF information of the digital photo, which supports most common models of digital cameras in the market.

 Additional function: automatic correction of deviation problem of Google Maps and Google Satellite in Mainland China.

 Supports 16 languages.

 Supports the whole series of Columbus GPS data logger: V-900, V-990 ,V-1000 and P-1.

 Easy to install with cross-platform and extensive compatibility: Windows, Linux and Mac OS.

 Supports statute, nautic and metric.
Package Content:
Documents: 
Firmware Downloads: 
Software Downloads:
Sample Data Downloads: 
| | |
| --- | --- |
|   | Blogs: |
| | |