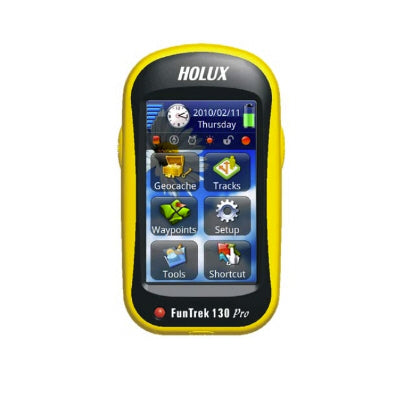 FunTrek 130 Pro
This item has been discontinued by the manufacturer.
Please visit our logger section for replacement products.
==========================================
The FunTrek 130 Pro displays speed, distance, time, altitude, carbon reduction, calories burned, and electronic compass. It can be used with heart rate sensor / cadence sensor / speed sensor for outdoor sports. FunTrek 130 Pro has a variety of GPS applications, not only hiking, bike, also a best partner for car driving to outdoor, which is a convenient tool for the measurement work that is truly full-function handheld product.
Functions:
Outdoor function:
l         Alert setting:You can set the alert for altitude, speed, distance and time. It can be used for outdoor climbing.
l         ANT+TM Heart rate monitor:With heart rate monitor sensor to measure heart rate.
l         ANT+TM Bike Cadence Sensor:With cadence sensor to measure cadence.
l         ANT+TM Bike Speed sensor:With speed sensor for bike.
Application functions:
l         G-Finder:Use the G-Finder feature to calibrate points in order to measure the field area.
l         Coordinate Datum switching:Support Beijing1954, Xian 80, Taiwan TWD 67, TWD 97 and WGS 1984 coordinates system which
are switchable. You also can set more than 250 coordinates.
l         Average location:Calculate average value of coordinates and average altitude.
l         Other application:Contains calendar, calculator, stopwatch, and Geocaching.
Receiver function:
l         GPS Positioning:Hidden antenna design, high-sensitivity GPS receiver chip can do quick positioning.
l         Electronic compass:Provides direction for location information, with compass function.
l         Altimeter:Measure the altimeter by using the GPS altitude and pressure altimeter calibration.
l         Touch screen LCD: A high resolution color, touch screen TFT LCD with backlight.
l         Water resistant: IPX6 Waterproof
l         Language support:Simplified Chinese/ Traditional Chinese/ English
l         Chinese/ English handwriting input: Support Simplified Chinese/ Traditional Chinese/ English handwriting functions.
l         Memory:Use micro SD card to store waypoints, routes and navigation map. It is can be used as a removable storage device
(flash drive).
Navigation record:
l         Record information:Store waypoints (including coordinates, altitude etc), track log (including coordinates, altitude etc), and edit
routes.
l         Display information:Contains waypoints, track log, routes, speed, track distance, moving average speed, vertical speed, altitude
change, heading, location, reducing the carbon content, temperature, and slope, and the other 40 Trip Computer. It also displays the
changes on altitude maps information chart.
l         Support Map:Support all kinds of navigation maps that were developed for FunTrek 130 Pro.