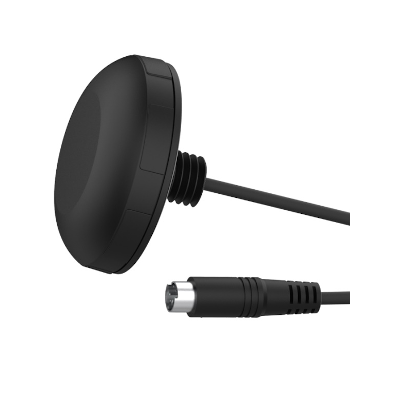 GlobalSat MR-350N GPS Receiver
MR-350N features Serial interface, high GPS sensitivity, and low power consumption. The MR-350N includes an embedded receiver and an antenna. This receiver up to 75 tracking verification channels while providing fast time-to-first-fix, precise position updates, low power consumption, and adds the capability of Wide Area Augmentation System (WASS).

The receiver design uses the latest technology and high-level circuit integration to achieve superior performance while minimizing space and power requirements. All critical components of the system include the RF/IF receiver hardware and the digital baseband are designed and manufactured by GlobalSat to ensure the quality and capability of the GPS.
The product can be utilized in a variety of applications that require a permanent mounting configuration. With bulkhead (through-hole) mounting and a low-profile housing, It is completely self-contained and waterproof. Typical application can include marine environments, aviation, commercial use such as fire truck, police cars and utility vehicles and buses. The extended 4.5 meters cable allows for easy routing to your equipment behind, headliners and side panels and terminates to a custom PS/2 connector.
Features
High sensitivity solution
Very high sensitivity chipset (Tracking Sensitivity: -165 dBm)
Extremely fast TTFF (Time To First Fix) at low signal level
Support NMEA 0183 data protocol
Built-in Super Cap to reserve system data for rapid satellite acquisition
Built-in patch antenna
Support RS-232(baud rate 4800) interface
Support Wide Area Augmentation System(WASS)
Waterproof IPX7
Specs:
The MR-350N uses a propriatary pin-out on the PS2, which cannot be connected directly to any laptop or PC without the use of a cable set (USB or RS232 + PS2 for power)
The MR-350P-S4, is compatible with Windows through the use of the new USB Cable Set (Part Number: 11-BR305-USB8).  

As for the other optional cable set, RS232 Cable Set, the device would be able to work with any Windows OS, as long as the computer has a serial port.
Buy BR305-USB2 cable, click here.
Buy BR305-RS232 cable, click here.
Documents: