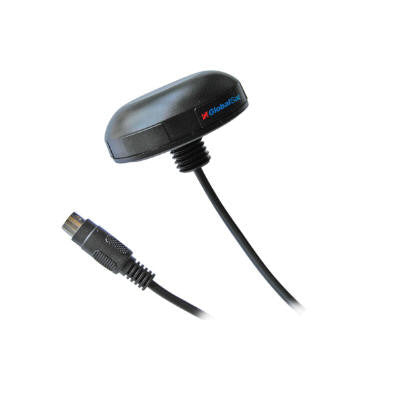 GlobalSat MR-350P GPS Receiver
This item has been discontinued by the manufacturer.
Recommended replacement product is :
==========================================
GlobalSat MR-350P Bulkhead Waterproof GPS Receiver
Permanent Mount GPS Solution




The WAAS/ EGNOS enabled MR-350P is a "mini" external GPS receiver, 

which utilizes a 


bulkhead (7/8" through-hole) style mounting design for 

applications that require a more 


permanent weatherproof mounting 

solution. The enclosed GPS receiver is self-contained 


with an active patch 

antenna and utilizes the latest "20" channel SiRF Star III high 


performance 

GPS chipset for accurate positioning. IPX7 Water Proof Design.  




The extended 15' cable allows for easy routing behind the headliner and 

side panels, 


terminating into a proprietary pin-out on a PS/2 connector for 

easy interfacing with either 


our USB or RS232 cable sets. (sold 

separately)




The WAAS/ EGNOS enabled by default MR-350P can be used in a wide 

variety of 


applications including commercial fleet/utility vehicles, police 

and fire trucks, boats and 


specialty equipment, that require great accuracy 

and durability.




For applications that require a only an external GPS antenna without a 

GPS receiver, 


please look at our AT-350.  




MR-350P uses a propriatary pin-out on the PS2, which cannot be 

connected directly to any 


laptop or PC without the use of a cable set (USB 

or RS232 + PS2 for power)
Buy BR305-USB2 cable, click here.
Buy BR305-RS232 cable, click here.
 MR-350P Package Contents:
* MR-350P Serial GPS Receiver
* CD-ROM (User Manual & GPS Info Test Utility)