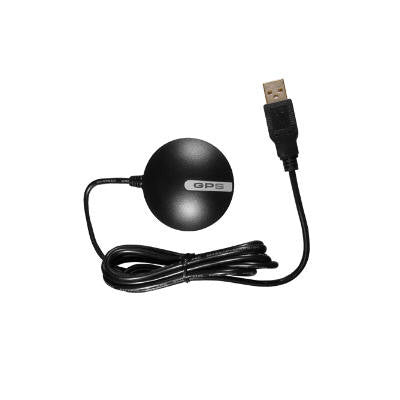 Globalsat BU-353 USB GPS Receiver
This item has been discontinued by the manufacturer.
Recommended replacement products are :
==========================================
The BU-353 GPS Receiver can be utilized in a variety of applications that may require a magnetic mounting with a waterproof configuration. With non-slip on the base and its compact design, the BU-353 is completely self-contained and waterproof. It incorporates the latest SiRF Star III GPS chipset and an active patch antenna so you receive the highest degree of GPS accuracy. Typical application may include, but not limited to marine, aviation, and commercial environments in such uses as fire truck, police cars, buses, utility & long haul vehicles. The extended 5 feet long cable allows for easy routing behind headliners and side panels to terminate at a USB connector for interfacing with your Laptop / ibook. / PowerBook.
Features:

1. SiRF Star III High Performance GPS chipset
2. High sensitivity (Tracking Sensitivity: -159 dBm)
3. Extremely fast TTFF (Time To First Fix) at low signal level
4. Support NMEA 0183 data protocol
5. Built-in SuperCap to reserve system data for rapid satellite acquisition
6. Built-in patch antenna.
7. Super-cohesive magnetic for mounting on the car
8. USB interface connection port.
9. Waterproof and non-slip on the bottom.
10. LED indicator for GPS fix or not fix.
LED OFF: Receiver switch off
LED ON: No fix, signal searching
LED Flashing: Position fixed
Specifications:

Chipset: SiRF Star III
Frequency: L1, 1575.42 MHz
C/A code: 1.023 MHz chip rate
Channels: 20 channel all-in-view tracking
Sensitivity: -159 dBm
Accuracy Position: 10 meters, 2D RMS
5 meters, 2D RMS, WAAS enabled
Velocity: 0.1 m/s
Time: 1us synchronized to GPS time

Datum
Default: WGS-84

Acquisition Time
Reacquisition: 0.1 sec., average
Hot start: 1 sec., average
Warm start: 38 sec., average
Cold start: 42 sec., average

Dynamic Conditions
Altitude: 18,000 meters (60,000 feet) max
Velocity: 515 meters /second (1000 knots) max
Acceleration: Less than 4g
Jerk: 20m/sec

Power
Main power input: 4.5V ~ 6.5V DC input
Power consumption: 80mA
Protocol Electrical level: TTL level,
Output voltage level: 0V~2.85V
Baud rate: 4,800 bps
Output message: NMEA 0183 GGA, GSA, GSV, RMC, VTG, GLL

Physical Characteristics
Dimension: 53mm diameter, 19.2mm height
Cable length: 65"
Operating temperature: -40C to +85C