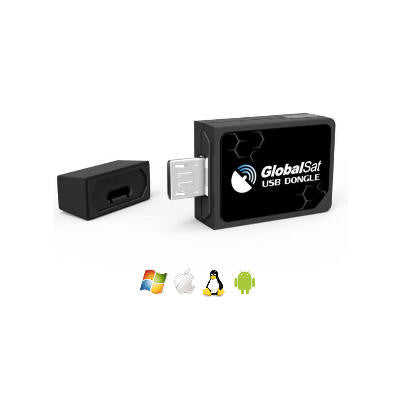 GlobalSat ND-105C GPS Receiver
This item has been discontinued.
Recommended replacement products are :
==========================================
GlobalSat ND-105C Micro USB GPS Receiver. Compatible with Android, Windows, Linux & Mac (USB adapter included)
ND-105C features high GPS sensitivity, Micro USB interface, low power consumption and ultra small form factor. This product is powered by MTK GPS solution; it can provide you with superior sensitivity and performance even in urban canyon and dense foliage environment. ND-105C supports up to 210 PRN channels. With 66 search channels and 22 simultaneous tracking channels, ND-105C acquires and tracks satellites in the shortest time even at indoor signal levels. Through ND-105Cfs excellent low-power consumption characteristic, while using power sensitive devices, especially portable applications. ND-105C PCBA with a simple ID design is suitable for the following device accessory: œ Smart Phone œ Tablet PC œ Portable device.
Microsoft Windows XP, Vista, 
Windows 7, Windows 8, 
Windows 8.1, Windows 10, 
WinCE, MacOS, Linux, Android Compatible
Product Features

● MediaTek high performance GPS Chipset

● Very high sensitivity (Chip Tracking Sensitivity: -165 dBm)

● Extremely fast TTFF (Time To First Fix) at low signal level

● Micro USB interface.

● Built-in LNA

● Built-in GPS Antenna

● Built-in GPS status LED(Red).

● Built-in Back up Battery.

● Compact size (30.4 mm x 15.4 mm x 4.5 mm) suitable for portable application

● Very low power consumption

● Support NMEA0183 V4.0(GGA,GSA,GSV,RMC)

● Support SBAS (WASS, EGNOS, MSAS, GAGAN), QZSS

● Micro USB Supports Android & Window8 operating system
Package Contents:


Micro USB to USB adapter Cable x 1