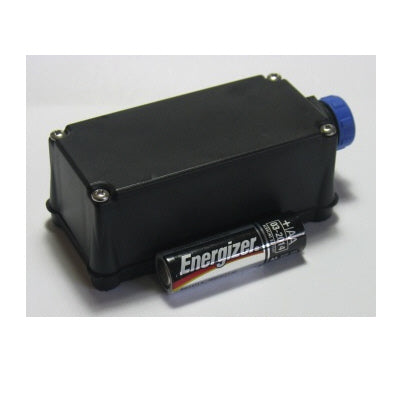 Quino Ranger Pro GPS logger (Spy Logger, Waterproof, Long Battery life, Strong Built-in Magnet )
This item has been discontinued by the manufacturer.
Recommended replacement product is :
==========================================
The GPS Ranger PRO is a passive data logger. It records where your vehicle has traveled, where and how long it stopped as well as distance traveled and maximum speed. The data can later be downloaded and viewed in google earth. 
Two magnets with 35 pounds pull strength each hold our device in place.   
The GPS Ranger PRO is the ideal tool for people who want to know where their vehicle has traveled. It runs on AA batteries and is 100% waterproof.
Experience our best in class battery performance, durability and overall quality!
GPS RANGER PRO DETAILS
The Quino GPS Ranger Pro provides you the ability to record location information of vehicles and equipment by recording location data that can be reviewed at a later date. The GPS RANGER PRO records the movement of vehicles, equipment and people. The product is able to record when the trip started, all of the stops that were made during the trip and when the stops took place. This versatile compact device is ideal for surveillance applications as it is able to be mounted quickly to a suspect's vehicle and will sleep until the vehicle starts moving. The device can stay dormant for up to 5 years and will not be detected by standard bug sweeping equipment. 
When the vehicle starts moving the device will wake up and start recording location data. Depending on the setting
selected the GPS RANGER PRO will record at 1 second to 15 second intervals and will last up to 60 hours of continuous Recording.
Key features of the GPS Ranger Pro:
Memory

- Large memory size so that data will not be lost

Long Battery Life -

A very long battery life (AA batteries) it can be placed on an idle piece of equipment or vehicle and be left there for up to 5 years if necessary; when it does start to move the GPS Ranger will record location data for up to 9 month*. 

Built-In Magnet -

It has a strong built in magnet so it can be attached to any metal surface with no mounting requirements

Permanent Mounting Option

- It can be permanently mounted to a surface using two industrial grade screws

Accurate -

GPS data is accurate to up to 1m vertical and 2.5 m horizontal

Google Earth -

The data can be viewed using 'Google Earth' and plugs right into your computer through the USB port using a USB cable**.

Trip Data -

The recorded data includes: trip start time, each stop made and the time spent at each stop, maximum speed and the complete trip path.
*performance may vary depending on device setting selection
**USB Cable included
Package Content:
GPS Ranger Pro Data Logger

USB cable (to attach to your PC)\

Product key to download manual & Log software. (The




software is only designed to run on a windows based




PC.)