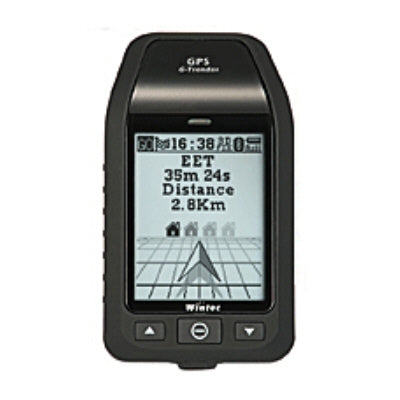 Wintec G-Trender WSG-1000 Waterproof Sport Bluetooth GPS Data Logger (LCD, Barometer, Electronic Compass, Dual Interface - USB/Bluetooth)
This item has been discontinued by the manufacturer.
Recommended replacement product is :
==========================================
Wintec G-Trender WSG-1000 integrates high-sensitivity GPS receiver, barometric altimeter and electronic compass, also provides not only a large LCD showing various dynamical information but also the data logger supporting the off-line tracking. It is the best companion for sport and recreation.
Features:
Simultaneously supports GPS Data (NMEA message) via Bluetooth and USB interfaces.

Records unlimited number of tracks and routes (up to the free built-in memory space)

Provides real time info on latitude, longitude, direction, speed and time.

Electronic compass and Barometer built-in! -- no more inaccurate altitude reading by relying on altitude info from GPS data.

A destination (Mark) direct navigation (Make and save a location as your destination by TMX or G-Trender itself, and G-




Trender will show you the direction to find the specified location.)

Supports instant position of the sun, sunrise/sunset and the monthly phase of the moon.

Supports multi-language (English and Traditional Chinese at present), Metric / Imperial system and Fahrenheit /




Centigrade.

Supports My Training on distance, time, average speed, max. speed and max. attitude.

Large backlit LCD screen provides various useful information without using a computer.

Periodical LED function.

Support over speed warning.

Supports over speed alert / warning (user-configurable speed limit)

Fully ruggedized and waterproof (IPX5) design is perfect for extreme sports and outdoor use.

Supports GeoTagging (click to learn more...), showing tracks on Google Earth / Google Maps, etc...

[Free] Firmware upgradeable via PC. So, your Wintec G-Trender is always updated with the latest features and




improvements. (From time-to-time, Wintec releases updates to improve or fix application features).
Spec:
Battery BL5C rechargeable lithium-ion(Nokia type, typical 1100mA)

Power Consumption Depends on each states.
States 1: 50mA (simple log mode, Shut off the LCD)

States 2: 60mA (normal mode, Bluetooth disable)

States 3: 75mA (Bluetooth enable)

Power Consumption for back light:25mA
Memory Size: 2M bytes(Max. on 130,000 way-point, depends on the memory scheme of F/W)

Operation Temperature -20~50C

GPS
IC: uBlox 0625

Accuracy: 2.5m CEP (Stand-Alone, S/A off)

Time to First Fix:34s (Cold Start)

Acquisition Sensitivity: –142 dBm

Tracking Sensitivity: –158 dBm

SBAS Supported.

AGPS Supported.
V1.2

Output Power:CLASS 2 (about 10 meter)

Service:SPP Slave
Pressure range 300 ... 1100 hPa (+9000 ... -500 m)

Resolution ±0.06 hPa (0.5 m) internal
Measuring magnetic field range : ±300uT

Resolution < 0.6uT/count